Size Guide
Size Chart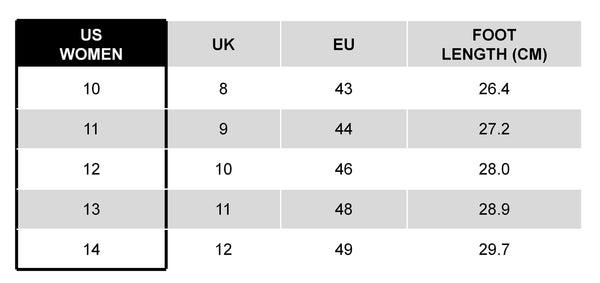 Find heel-to-toe comfort with the help of these foot size measuring tips.
When measuring your shoe size at home, you'll need the following items:
Two pieces of paper larger than your foot
It's recommended to wait until the end of the day, when your foot is at its widest point.
1. Tape the paper on the floor with one end against a wall. It's important that it doesn't slip so that you're able to get the proper measurement.
2. Plant one foot on the paper with your heel against the wall.
3. Trace the outline of your foot. It's easiest to have someone help you with this step. Try not to hold the pencil at an angle, as that can cause an improper measurement.
4. Using your ruler, measure the longest and widest parts of your outline.
5. Repeat with your other foot.
Take down your measurements in both inches and centimeters. Charts may vary in the units used. When comparing your results with a shoe size chart, you'll want to use the measurement of your larger foot.
Still not sure?
We'd love to talk to you about it. Reach out to one of our fit specialists at
info@queeo.com
for some personalized advice!